Inuyama in Aichi Prefecture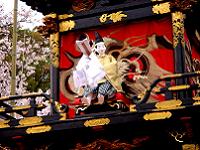 Inuyama city is a castle town of Inuyama castle and the most northerly city in Aichi prefecture. The castle is one of Japanese national treasures and it surrounded by Kiso River, so it's so famous for beauty. There isn't only Inuyama castle, but we would also enjoy Onsen (hot springs) and some theme parks, which are Museum Meiji Mura, Little World and Japan Monkey Park, in the city.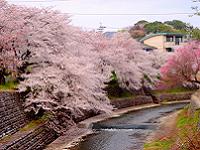 It's easy to go the city from Nagoya city by Meitetsu train, and we can also enjoy seasonal flowers and mountains, for example cherry blossoms, autumn leaves and so on.
History
In the Edo period, Inuyama castle was one of the branch castles of Owari clan, and the area was prosperous as castle town of Naruse family who were chief retainer of Owari clan. At that time, the whole castle town was surrounded by the outer moat, and the style was called Sougamae and so rare in Japan.
Through the Edo period, the cultures were developed by Naruse family, Masatora Naruse who was the second load developed Inuyama Festival as Haritsuna shrine festival rite, Masachika who was the third load started Inuyama Ukai that is fishing with cormorants and Masanobu who was the seventh load started Inuyama-Yaki. The cultures continue.
Events
Inuyama Matsuri (Inuyama Festival)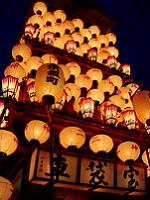 Inuyama festival started as Haritsuna shrine festival rite by Naruse family in 1635 and it continue more than 370 years. The highlights are delicate gimmicks of windup dolls (Karakuri) of 13 trilaminar floats (Yama) in daytime, and fantastic night floats (Yo-Yama) parade the castle town with 365 lanterns in nighttime, and what's more, Shagiri and Donden are very special wild and powerful handlings controlling the floats that are more than three-ton to make aright or left-angled turn with big noises.
Date

First Saturday and Sunday in April

Place

Inuyama castle town (Near station is Inuyama station)
Nippon line natsu matsuri nouryou hanabi taikai (Japan Line festival fireworks display in the cool of a summer evening)
The 3000 fireworks sending up over Kiso River paint Inuyama castle in summer night sky. The highlight is special fireworks "Niagara Falls" built over Kiso River for 300 meters as crowning glory.
Date

August 10th (From 7:30)

Place

Down the Kiso River from Inuyama twin bridge. (Near station is Inuyama Yuen station)
Ishiage Matsuri (Stone piling festival)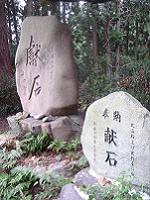 Ishiage Matsuri of Owari Fuji Omiya Sengen Shrine is one of the three quaint festivals in Owari area. A lot of people pile more than 200 huge stones at the summit of Mt.Owari Fuji from foot of the mountain.

Date

First Sunday of August every year

Place

Mt. Owari Fuji

Get in

East exit of Meitetsu Inuyama station -Bus(to Museum Meiji Mura)→ Mt. Owari Fuji
Features
The features in Inuyama aren't only Inuyama castle and the castle town but there're also Museum Meiji Mura, Japan monkey park, little world and so on. Inuyama has some cultural sightseeing sights, so we would enjoy so much in Inuyama.
Inuyama castle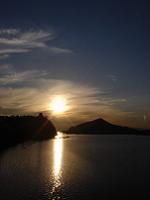 Oda family had been the lord of Inuyama castle when the castle tower built at the present place in 1573. After Oda family, several lords had owned the castle, and then Naruse family had been the owner of it since Masanari Naruse who was a chief retainer of Owari clan had started to manage in 1617 until Meiji period. In 1952, Inuyama castle tower had been designated as a national treasure, the present castle tower had been taken apart for repairs from 1961 to 1965.
Museum Meiji Mura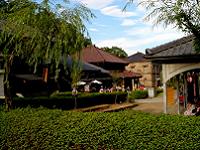 Museum Meiji Mura is a theme park where we may experience the life styles in Meiji period with 10 national important culture properties, for example Tsugumichi Saigo residence, St. John's Church and prefectural government of Mie prefecture, and the front entrance of Teikoku hotel.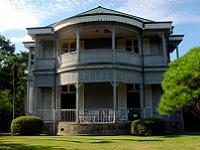 There're a lot of very important historical buildings such as railroad, post office, hospital, courthouse, playhouse, school, church and so on in Museum Meiji Mura. And we can walk in the world in Meiji period and touch the cultures.

Get in

East exit of Meitetsu Inuyama station -Bus(to Museum Meiji Mura)→ Museum Meiji Mura
Meitetsu Bus Center or Sakae -Nonstop bus (to Museum Meiji Mura)→Museum Meiji Mura
* Nonstop buses only work on Saturday and Sunday.
Little World
Little World is the world first folklore museum in the open air, and the theme is houses and the way of living in the world. We can go into 33 houses of 22 countries in the open air, and try on some national costumes and eat several countries' foods in the world. So, Little World is the theme park where we may enjoy experiencing voyage round the world in a day.
Get in

East exit of Meitetsu Inuyama station -Bus (to Little World)→ Little World
Meitetsu bus center or Sakae -(to Shiki-No-Oka)→ Little World
Japan Monkey Park
Japan Monkey Park is the so rare Monkey zoo in the world where we can see more than 73 species of 650 monkeys. And it's world-famous in researches in primatology.
The park also contains the amusement park, so children and adults may enjoy in the park.
Get in

Meitetsu Inuyama Yuen station -(monorail)→ Japan Monkey Park
Jakkoin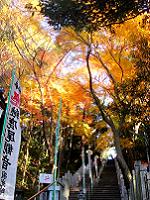 Jakkoin is so famous temple for beautiful autumn leaves that called "The Autumn leaves temple in Owari-area". More than 1000 trees turn red and yellow and they color the mountain color the mountain.

Local dishes
Dengaku
We might enjoy some taste of dengaku whose taste are tofu, taro (Imo), mud snail (Tanishi) and meat (Niku). But, the basic would be tofu dengaku with roasted red miso flavor. The taste is needless to say, and it is the local dish with the so nice aroma of roasted miso.
Nintoushu
Nintoshu is the earliest liquor in Owari area and it's one of the specialties of Inuyama. It's brewed from Japanese honeysuckle and some materials by their unique and secret way of brewing. The taste would be like sweet whisky and the it would be very different from Japanese sake, shochu and wine.
Get in
It's very easy to visit in Inuyama city from Nagoya city by Meitetsu Inuyama line. So if you stay at other area, at first you would go Nagoya and then change at Nagoya station to Meitetsu Inuyama Line for Inuyama.
From Tokyo to Inuyama
By Train

Tokyo-(Tokaido Shinkansen)→Nagoya-(Meitetsu Inuyama Line)→Inuyama
From Osaka to Inuyama
By Train

Shin-Osaka-(Tokaido Shinkansen)→Nagoya-(Meitetsu Inuyama Line)→Inuyama
From Nagoya to Inuyama
By Train

Nagoya-(Meitetsu Inuyama Line)→Inuyama